TELC® language tests in Heidelberg
telc® language certificates are internationally recognized and are offered at all competence levels of the Common European Framework of Reference. The Academy of Languages has been a licensed telc® examination center for telc® European language certificates since 2012.
Here you can find out everything about our examination dates, the different certificates, how to register successfully for the examination and how a telc® examination is structured.
Profit from
✓ regular dates
✓ many years of experience
Individual exam preparation courses
✓ achieve better results thanks to goal-oriented preparation courses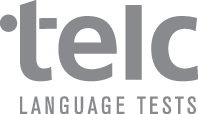 telc examinations stand for consistently high quality, both in Germany and internationally. As a member of ALTE, the Association of Language Testers in Europe, telc is committed to accurate testing and grading, as well as fair assessment of language skills according to levels A1 to C2 of the CEFR, the Common European Framework of Reference for Languages. telc exams are therefore highly recognized by companies, government agencies, schools and universities.
What is telc®? What are the parts of the telc® examination?
What does the telc exam test?
telc exams at all levels are structured in the same way. They consist of a written and an oral part. Depending on the language level, a telc examination takes different amounts of time.
What are the benefits of a telc® certificate?
In addition to personal confirmation, a telc certificate opens up a number of opportunities for you:
Improve your chances on the job market
Demonstrate your professional language skills
Be admitted to your chosen course of study
Reunite with your family members
Lay the foundation for your life in Germany
telc® exams to suit your goal
Here you can find an overview of the telc German exams that you can take with us.
telc Deutsch A1 - C2 - allgemeinsprachliche Prüfungen
telc Deutsch for university
telc Deutsch for your job