Group offer: Summer Camps in Germany to learn German
You want to learn a language with a group of colleagues or friends or you want to organize a class trip. Why not come to Heidelberg with your group!
As travel groups you can take part in our intensive courses in German and English, or learn another language together, such as Spanish, Italian, French, Chinese or Japanese.
We also take care of you outside the language course. You have the possibility to live in one of our dormitories or with one of our host families.
We are also happy to take care of your physical well-being. You can enjoy a meal in one of our partner restaurants close to the language school.
If you wish, we can also arrange a leisure program according to your taste. Depending on your needs, we can also organize your transfer to the airport or train station.
And if you prefer to study from the comfort of your own home, we can also organize an online course for you. Contact us, we will be happy to advise you.
German and English courses for groups
For school trips or for groups of at least seven people who would like to improve their foreign language skills together and experience German culture in one of the most beautiful cities in Germany, we offer group courses all year round.
Our varied cultural program, which can also be adapted in advance to the special interests of the group participants, provides for variety.
Accommodation in our dormitories or with host families with or without meals as well as various transfer options round off your perfect language trip.
Free offers for group leaders:
Language course - German or English (from 7 participants).
Accommodation: a room in one of our dormitories (from 10 participants; host family or hotel accommodation is only possible at the list price).

General information:
Administration fee per group: € 100
Included services: Placement tests, mid-term tests, participant certificate, use of library, reading room and computer workstations, WLAN.

Course materials (copies): € 10 per participant. Those who prefer to work with books can buy their teaching materials separately at the school; two textbooks cost between € 35 and € 60, depending on the course level and language. Division into international groups is guaranteed for German (A1-C2); English (English A2-C2).
Transfer service also for groups:
Information, conditions and pick-up locations can be found in the Transfer section.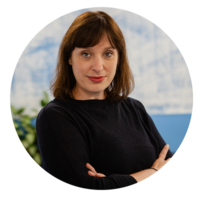 "We will be happy to advise you!"
[Tina Gajdics, Consultant at Academy of Languages]