Business language courses in Heidelberg
Do you need industry-specific language skills? Your team should gain more confidence in communicating on the phone, in e-mails or in presentations in specific languages? You want to be convincing in intercultural meetings? We can help - and have been doing so for 40 years.
Through its Corporate Language Training, the Academy of Languages offers customized language training for companies and organizations in more than 20 languages, such as English, German, French, Italian, Spanish, Chinese or Russian.
Thanks to their modular structure, the language training courses can be individually adapted to the specific requirements of an industry or company division. The trainings take place in the form of group courses, individual lessons, day seminars or weekend workshops - either in our school, as an in-house training in your company or as an online course. The focus of our trainings is on active speaking - for this we plan a lot of time for all participants.
23 languages offered - suitable learning formats
Arabic ✓ Brazilian ✓ Bulgarian ✓ Chinese ✓ German ✓ English ✓ French ✓ Georgian, ✓ Italian ✓ Japanese ✓ Croatian ✓ Dutch ✓ Polish ✓ Portuguese ✓ Romanian ✓ Russian ✓ Swedish ✓ Serbian ✓ Spanish ✓ Czech ✓ Turkish ✓ Ukrainian ✓ Hungarian
Individual or group training, evening course or weekend workshop, face-to-face or online instruction - the course of instruction depends entirely on your ideas and needs.
The training courses can take place in-house at your company or at our school, for example as
individual lessons
weekly group course
one-day crash course
weekend workshop
…
✓ All courses also available as online training.
Targeted business language training
We can teach you these and other key topics in the language of your choice:
Telephone calls: apply phrases & techniques for all types of telephone communication.
E-mails and reports: using formal and informal language; style, layout and structure
Presentations: effective and appealing presentations for different occasions and target audiences
Meetings & negotiations: expressing yourself politely and diplomatically, influencing and persuading others
Intercultural understanding and communication: understanding how people from different cultures communicate and perceive the world around them
Grammar and vocabulary: to present oneself and the company in a professional way
The modules can be combined individually.
Your desired topic is not listed?
Describe your request and we will put together the right module for you.
Your advantages at the Academy of Languages
We are one of the largest language schools in Europe and we are proud of our
our decades of experience and development.
Why should you come to us? See for yourself:
✓ Tailor-made: we devote ourselves entirely to the specific concerns of our customers and work closely with them to design effective training courses that really help them progress. Before the course begins, we conduct placement tests and needs analyses to get an accurate picture of each participant's language level and individual goals.
✓ Tangible: our participants get something in their hands: proof of the content they have learned in the form of a certificate. In addition, the Academy of Languages offers a comprehensive range of language examinations and is one of the largest TestDaF examination centers in Europe.
✓ Connected: The Academy of Languages is part of the Heidelberg-based F+U Group, a non-profit educational institution with schools, colleges and academies represented at several locations in Germany and worldwide, e.g. in China and Vietnam, as well as cooperations and partnerships with schools, colleges and universities around the world.
✓ Flexible: sometimes even the best planning is thwarted. With us, you can postpone or cancel booked corporate training at short notice. Together we will find a solution.
✓ Including feedback: you will receive regular reports from us and a final evaluation based on the Common European Framework of Reference for Languages.
✓ Qualified: our teachers are not only professionally qualified and experienced - rather, they are trainers with a passion who share their enthusiasm for languages with you
✓ Competent: benefit from our 40 years of experience in organizing and conducting language courses for private and corporate clients
✓ Fair: not only the content and format of the course must fit, but also the conditions. We offer fair prices for high quality and special conditions for loyal customers.
Let's talk about your communicative success....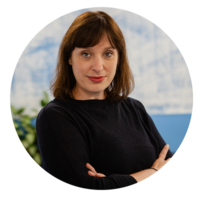 "We will be happy to advise you on suitable language solutions depending on the language level of your teams or international business partners and company goals - We look forward to your inquiry!"
[Tina Gajdics, Consultant at Academy of Languages]