Additional services of the language school
Administrative procedures
Administrative procedures
Customers requiring a visa can receive the following services from us upon arrival: Support in almost all official matters, convenient registration or re-registration at the citizens' registration office, advice and appointments for opening or activating a bank account, assistance in taking out German health insurance, checking documents for the foreigners' registration office, general advice on visa extension. Prerequisite: booking of a language course with a duration of at least 12 weeks. Fee: € 275 (Individual services, such as registration at the Citizens' Registration Office, can be booked separately for € 85).
Language courses with internship
Language courses with internship
The internship (max. 3 months, unless it is a study-related training module) should be applied for at least eight weeks before the desired start date. Prerequisite: Attendance of an intensive course of at least two weeks and German language skills (B1 level, for an internship at Academy of Languages an A1 level is sufficient). Applicants from third countries must provide proof of a work permit for the internship, e.g. a working holiday visa. All applicants must also provide proof that the internship either serves as a career orientation (orientation internship) or accompanies training or studies. The proof can be provided, for example, in the form of a training contract or an enrollment or school certificate. Placement fee: € 350; A successful placement cannot be guaranteed. In case of non-placement 50% of the fees will be refunded, alternatively the internship can be completed at F+U.
Free services for students of the Academy of Languages
Free services for students of the Academy of Languages
Homework help (Monday - Friday 15:00-17:00), literature seminar (Thursdays), theater and cinema AG (Wednesdays), TestDaF preparation (oral expression, listening comprehension, Saturdays), orientation tour through the old town of Heidelberg (Mondays), hiking tours (Heiligenberg, Philosophenweg, Heidelberg Castle Garden a.o., Tuesdays), our popular Japan Seminar1 (once a month; food and drinks: € 5 per person), exam consulting (focus on telc C1 Hochschule, DSH and TestDaF), office hours offered in several languages (the administrative staff is multilingual, so whether you speak Chinese, Japanese, Russian, English, Spanish or Italian, you will always find the appropriate contact person). 1The Japan Seminar is also open to non-school Japanese culture and language enthusiasts.
Courses à la carte
Courses à la carte
Parallel to an intensive course, we organize various special courses in collaboration with local sports clubs, event organizers and music schools. A selection: Soccer, handball, table tennis, tennis, basketball, field field hockey, ice hockey, rugby and other sports, music lessons, floristry. Please note that exercise lessons are charged extra. The amount of the fees depends on the number of hours booked and especially on the type of activity booked. For sports lessons, usually only a small monthly fee has to be paid to the club. Placement fee: € 325 (A successful placement cannot be guaranteed. In case of non-placement € 225 will be refunded).
Language lessons and cultural training
Language lessons and cultural training
The program is aimed at young people who would like to actively participate in our cultural programs in addition to their German lessons. For this purpose we especially recommend the participation in the programs of our Japan and China Center. Placement fee: € 225.
Cultural program
Cultural program
Cultural program

The groups are accompanied by a member of the school staff. Unless otherwise stated, the fees include only the entrance tickets, travel and personnel costs. The minimum number of participants for each event is 10. School classes participate in our open programs, separate activities are organized only at an extra charge, information on this is available on request. You can find more information under culture and leisure.
Lessons on Tour - Change of school location
Lessons on Tour - Change of school location
The Academy of Languages offers its intensive German as a Foreign Language courses in Berlin and Heidelberg. You can complete your language program at either school at no extra charge. All you have to do is let us know when you register at which school you would like to take which course and for how long. The language courses at both F+U schools are structured in such a way that it is possible to change schools. If you decide to join our Lessons on Tour program after you have started your course, you can change schools with two weeks' notice and a fee of €100 (subject to availability of accommodation).
Childcare
Childcare
During your language course, we will also be happy to take care of your children so that you can fully concentrate on the lessons while knowing your children are in good hands. If you have lessons, simply bring your children with you to the language school. There, your children will be met by one of our childcare professionals shortly before class begins.
Childcare is organized flexibly according to your needs. Our childcare staff will organize the activities in a fun, varied and age-appropriate way. The activities are arranged in such a way that both fun and education are not neglected. Of course, we are also happy to consider your wishes for the care.
If you need childcare parallel to your intensive classes, we offer the following prices:
1 child: 20 EUR per 45 minutes
2 children: 15 EUR per child per 45 minutes
3 children: 13 EUR per child per 45 minutes
Popular activities are for example, painting and handicrafts, games on the Neckar meadow, excursions to the fairy tale paradise Heidelberg, to the zoo, to the falconry Tinnunculus, to the planetarium in Mannheim, to the Heidelberg and Schwetzingen castle or to the swimming pool.
Contact us, we will organize an individual program for you.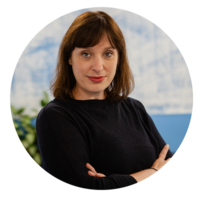 "We will be happy to advise you!"
[Tina Gajdics, Consultant at Academy of Languages]