Exams are not the most pleasant tasks in life for most people, but they are an essential part of setting the right course for personal development. Whether it's plans to study at a renowned university, to graduate summa cum laude and to really take off in one's first job, or to climb the next rung on the career ladder and take on even more interesting challenges in a new position.
Before all these futures, hopes and dreams come exams - language exams. Language is considered the key to the world and at the Academy of Languages you can acquire this key through our exam preparation courses and internationally recognised language exams.
Our exam preparation courses
But the most important ingredient for a successful exam is our exam preparation courses. We have been taking care of exam candidates for 30 years. Every year, around 650 participants take the TestDaF with us. The Academy of Languages is Germany's largest TestDaF examination centre.
We are also one of the telc C1 Hochschule centres of excellence and have an average of 350 telc C1 Hochschule candidates per year. In total, almost 850 candidates take a telc examination at all levels in the course of a year. We welcome more than 300 candidates for the TOEFL test and just as many take the IELTS exam.
In our exam preparation courses you will learn the mechanics of the exam you want to take. Our experienced teachers train the individual parts of the exam with the candidates and also address the individual strengths and weaknesses of each student.
Each language exam has different requirements for the candidate's language level. We recommend that our language students only register for the language exam once they have reached the appropriate language level.
In order to reach this level as quickly as possible, we advise our exam candidates to take part in our intensive preparation courses.
From start to finish, your exam is in good hands with us.
We know the candidates who literally wear their exam anxiety on their face: some have red marks, struggle with nausea and panic attacks, feel unprepared and have 1,000 questions.
We are ready to accompany these candidates on their way to the exam. The team at the examination centre is ready to listen to all aspirants' worries and concerns about the organisation of the examination, and to provide valuable advice to our candidates from registration to the day of the examination.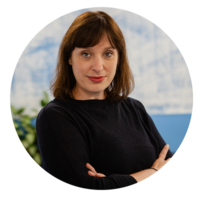 "We will be happy to advise you!"
[Tina Gajdics, Consultant at Academy of Languages]