During your language course, we will also be happy to take care of your children so that you can fully concentrate on the lessons while knowing your children are in good hands. If you have lessons, simply bring your children with you to the language school. There, your children will be met by one of our childcare professionals shortly before class begins.
Childcare is organized flexibly according to your needs. Our childcare staff will organize the activities in a fun, varied and age-appropriate way. The activities are arranged in such a way that both fun and education are not neglected. Of course, we are also happy to consider your wishes for the care.
If you need childcare parallel to your intensive classes, we offer the following prices:
1 child: 20 EUR per 45 minutes
2 children: 15 EUR per child per 45 minutes
3 children: 13 EUR per child per 45 minutes
Popular activities are for example, painting and handicrafts, games on the Neckar meadow, excursions to the fairy tale paradise Heidelberg, to the zoo, to the falconry Tinnunculus, to the planetarium in Mannheim, to the Heidelberg and Schwetzingen castle or to the swimming pool.
Contact us, we will organize an individual program for you.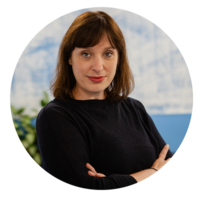 "We will be happy to advise you!"
[Tina Gajdics, Consultant at F+U Academy of Languages]